Low migration is a term used to describe the entire process of applying and curing specially formulated inks used in packaging such that there is minimal to no migration through the packaging materials and into the product. Low migration — also known as food safe process — is not exclusive to food packaging; it also extends to other products such as pharmaceuticals, cosmetics and pet products where uncured or migrating inks can negatively impact the product's composition or odor.
Since 2004, EU Framework Regulation EC 1935/2004 requires low migration for all food packaging. While there are a variety of processes that can reduce migration levels, Phoseon Technology's revolutionary UV-LED curing technology offers superior process stability and consistency, both top requirements for low-migration printing.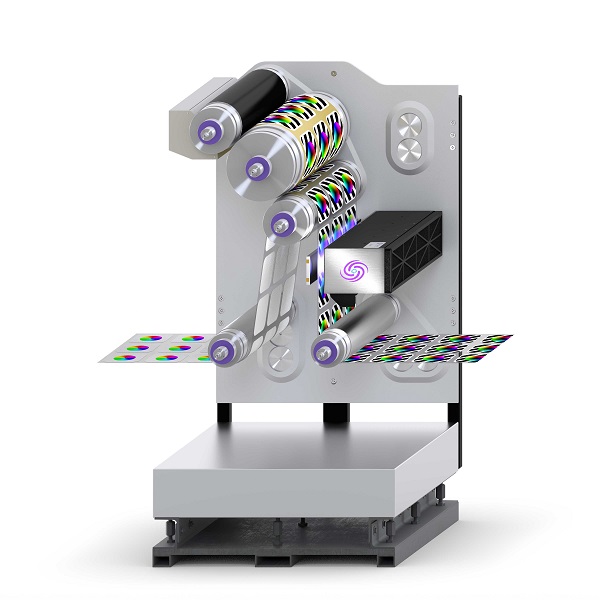 Phoseon Technology's new FireJet™ FJ601 used for UV LED curing low-migration inks, installed on a one station flexographic press for printing food-safe packaging such as flexible and shrink films. (Image: Phoseon Technology)
"The UV output of LED curing equipment is much more stable over time compared with conventional mercury based systems. This results in greater process control when used to crosslink inks, coatings and adhesives in low-migration processes," said Jennifer Heathcote*, global business development manager at Phoseon Technology.
Phoseon's technology uses UV LED light to rapidly set, or "cure," ink used in printing, resulting in a higher quality product without the use of solvent-based inks. UV inks dry almost instantly when exposed to UV light, resulting in sharp and colorful images. Phoseon's patented TargetCure technology enables converters to confidently run food- and medical- safe jobs, in addition to standard label and shrink-film jobs, using LED low-migration inks. The consistent and stable output of the Phoseon Technology FireJet™ FJ601 provides repeatable results with each run for a high-yield process.
Phoseon's UV-LED solution also reduces operational costs and safety hazards associated with UV output from traditional arc and microwave lamps.
UV LED curing is becoming increasingly more viable for decorating applications spanning printed labels, flexible and shrink films, rigid containers, and carton and corrugated board. In addition to its quick-drying capabilities, UV LED curing creates less heat transfer to the substrate, thereby, eliminating or significantly reducing any damage to the print surface.
"That's a critical benefit, especially when printing on heat-sensitive plastic films often used in food packaging," said Heathcote.
Low-Migration Packaging
To qualify as low-migration packaging, materials contained in the packaging structure, including printing inks, coatings and adhesives, must not have any uncured migratory chemicals that would affect the appearance, flavor, odor, taste or safety of the product contained within the packaging.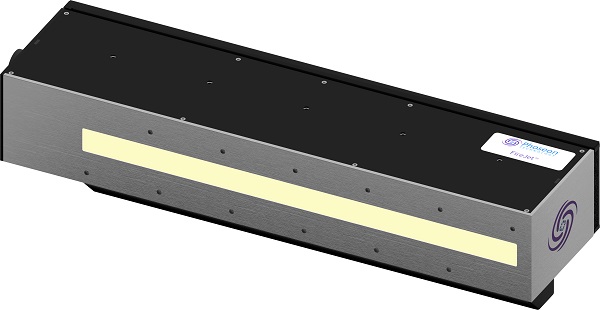 Phoseon Technology's new FireJet™ FJ601 provides self-contained air-cooled UV LED curing for low-migration inks, coatings and adhesives used in food- and medical-safe packaging. (Image: Phoseon Technology)
While some companies use "food-safe process" packaging outside of Europe, general adoption has been slow in markets where it's not mandated, due in large part to perceived increases in material costs and additional process controls associated with measurement and quality inspections required to meet low-migration standards.
Heathcote notes that while there are upfront costs to switch to UV LED curing for food safe process printing, companies often quickly recoup their investment. UV LED curing technology has no moving or consumable parts which significantly reduces down-time for maintenance and repairs. UV LED systems last longer and can reduce energy consumption by up to 70 percent compared with traditional arc lamps. In addition, UV LED curing does not contain mercury, which is used in conventional lamps, making for a safer environment and workplace.
"The task at hand is to collaborate closely with global brands to convince them that UV LED technology is indeed safe, as well as the most efficient, controllable and cost effective curing process," said Sara Jennings, senior technical marketing engineer at Phoseon Technology. "In addition, UV LED is an enabling technology that allows the brands to create unique and superior packaging that significantly differentiates from alternative product packaging. Once this is better understood, we're confident that the global brands will increasingly see the value in the UV LED process and will more widely adopt it for their packaging applications."