Modern LED City Light pillars equipped with the Street Light Control system and Einstone technology from Osram were installed in a city-wide intelligent network to form the basis for the Wipperfürth Smart City project. Luminaires transmit information via Bluetooth signal that is then recorded and processed by the new WippApp. Smartphone users that have downloaded the app can access a diversity of information such as offers from retailers, information about companies and much more.
The town of Wipperfürth in Germany began to upgrade its complete road lighting across several construction stages to energy-efficient LED technology in 2010. Now the Hanseatic town in "Bergisches Land" has created a further pioneering project together with Osram. In addition to further LED modernisation, the project also aims at intelligently networking the urban road lighting. The photometric base unit for intelligent LED road lighting is modern City Light pillars from Siteco equipped with the efficient 540 Plus LED module. To make the nocturnal appearance of the town even more appealing, the pillars have a supplementary linear RGB module that can be individually controlled with the Street Light Control software. This enables specific colored light scenarios to be created in the city center.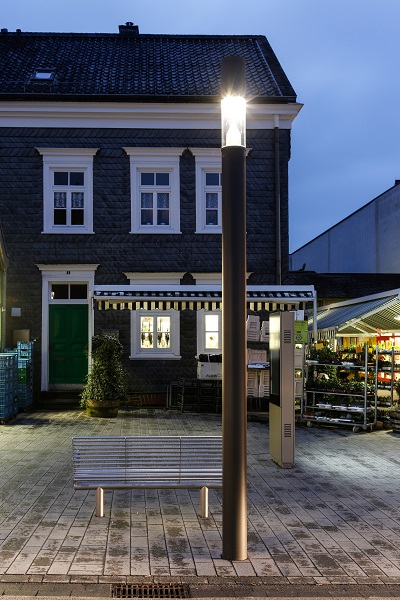 City Light LED pillars are connected with the Wipperfürth city app using Einstone Osram technology.
The complete software infrastructure is stored in a cloud.
An Osram Einstone transmitter is also integrated in the lower area of the luminaire's top unit. This emits a Bluetooth signal that is received by smartphones and can be used with a corresponding app. Einstone technology enables site-related services by linking it with the Wipperfürth app, and users of the app can simply and conveniently access locationspecific special features, the offers of associated retailers and general information.
"Street luminaires offer the ideal infrastructure for this because they're distributed throughout a town or city in a tight grid," said Andreas Pickelein, Project Manager, Osram Lighting Solutions. "Power is also available. When the luminaires light up the road at night the Einstone battery recharges, enabling the device to have sufficient operating voltage during the day" he added. The extensive range of Smart City functions for urban lighting can also be expanded, for example by integrating environment sensors or sensors helping users when searching for parking spaces.