Osram Releases New VCSELs for 3D Sensing Applications
Osram has debuted new VCSELs for applications like 3D scanning and imaging. The new products, PLPVCQ 850 and the PLPVCQ 940, are the latest additions to Osram's Bidos product family.

VCSELs combine the high power density and simple packaging of an IRED with the spectral width and speed of a laser. With the focus on high tech development, Osram Opto Semiconductor has targeted VCSEL application include machine vision or facial recognition, as well as object or architectural scanning that involves mapping an area in 3D and positioning virtual furniture and other items.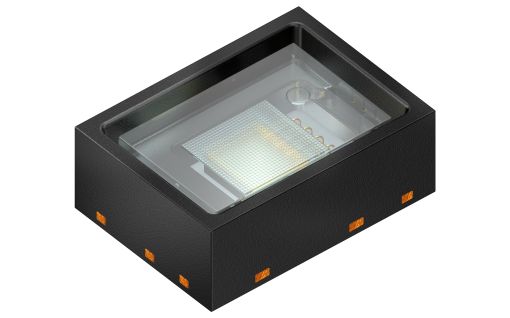 (Image: Osram)
The new VCSELs come with a compact black package measuring 2.40 mm x 3.30 mm x 1.20 mm. Different wavelengths can be selected depending on the applications.

"We are delighted to add these highly innovative products to our VCSEL family. With these products we are setting new standards in emerging applications such as 3D sensing, and with our know-how we are looking to gain significant influence in this market", said Nina Reiser, Marketing Manager at Osram Opto Semiconductors.