Flip Chip Opto releases a first-in-class 2400 watt high powered horticultural flip chip COB. The 2400 watt flip chip COB is part of their new Duet series geared towards the grow light industry. The Duet 2400 is based on the company's 3-PAD Pillar Metal Core Printed Circuit Board technology. This technology allows a breakthrough in high powered horticultural flip chip LEDs, reducing junction temperatures to 0.003˚C/W on Duet 2400 at a maximum power of 2433 watts.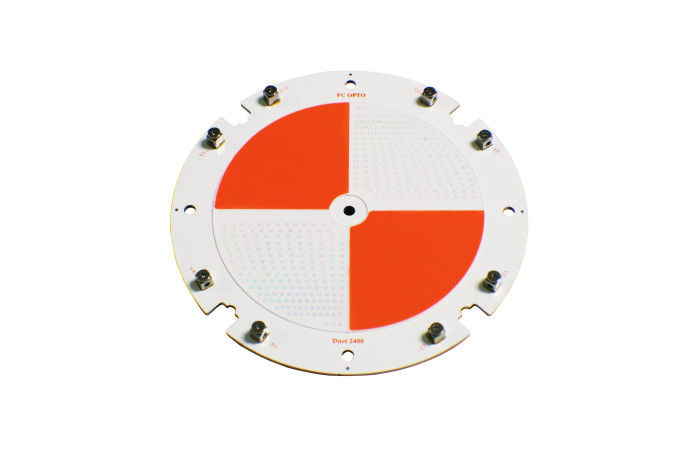 The Duet series represents Flip Chip Opto's horticultural solution to the Flip Chip COB market. Duet 2400 features 4 independent illuminating sections with customizable light spectrums; the standard product line will run a peak of 450nm of royal blue, and 660nm of broadband red. The two different light spectrums compliment the peak absorption rates of chlorophyll in most plant organisms. The Duet series also allows the substitution of other light spectrums for applications with plant organisms that do not absorb 450nm or 660nm spectrums.
Duet 2400 is unique due to its thermal properties; allowing designers to reduce the form factor of their cooling solutions while maximizing output. It is ideal for extreme applications such as greenhouses, commercial grow facilities, indoor farming, supplemental tree lighting, and other applications which require high powered, energy efficient LED grow lighting.
Flip Chip Opto will showcase their entire product line at ELA Expo Lighting America booth 554 in Mexico City on 2/24 – 2/26, and Light + Building booth D70 in Frankfurt on 03/12 – 03/18.