Seven Smart LED Lights.InBright 5mm Single Color Lamp LED Series Green
The new products contain features that not only push the boundaries of the Mr Beams product line but also the battery-powered lighting industry with higher lumen outputs, bold designs and even easier wireless installation and operation.
"These products solve real customer problems and start to make real the promise we made when we started this company to create wireless lighting products that are good enough to replace wired lights in many applications," says Michael Recker, chief technology officer and co-founder of Wireless Environment.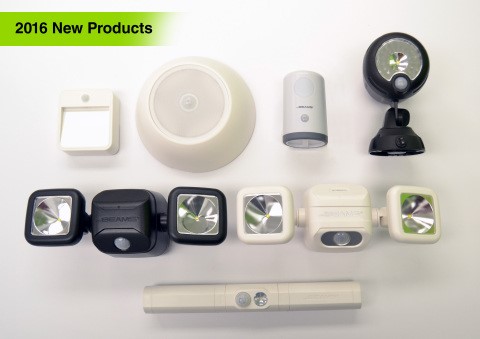 Mr Beams 2016 product launches, including motion activated security spotlights and automatic indoor lighting solutions. (Mr Beams/LEDinside)
"The fact that we have received over 40 utility and design patents is a great indication that the products we are creating and putting on the market have not been seen before by customers."
The High Performance Security Light, available in both a NetBright version and standard version, provides 500 lumens of battery-powered light with two adjustable heads and easy installation anywhere in less than five minutes. The NetBright model contains NetBright technology that allows the lights to communicate with each other, so when one light detects motion, all others on the network activate.
At 300 lumens, the UltraBright Ceiling Light is the brightest indoor light in the Mr Beams line. A modern design and soft diffuser that provides a wider coverage area makes the light ideal for large closets, showers, hallways and sheds.
The MB360XT Next Generation Spotlight features a lumen and design upgrade from the customer favorite and Amazon best seller MB360 LED Spotlight. The brighter, bolder outdoor lighting solution provides 200 lumens and a reflective face to create a 50 percent wider coverage area.
Other 2016 Mr Beams product launches include two additions to the night light family: the Amber Stick Anywhere Light and Stand Anywhere Light; and the Slim Safety Light for above doorways and other cramped areas. All Mr Beams lights contain motion activation, auto shut-off and a light sensor to help prolong battery life.