According to LEDinside's 2019 Micro LED Next Generation Display Key Technology Report, Micro LED technology development in the early days was based on patent layout. Sony, Cree and the University of Illinois have been the earliest ones for the layout. After the acquisition of LuxVue by APPLE in 2014, it led other companies to accelerate the development of the Micro LED field. In addition, manufacturers in different regions of the world have different strategies and developments for the layout of Micro LEDs. For example, Taiwanese manufacturers are mainly engaged in professional OEMs, and Korean manufacturers focus on strategic cooperation. Japanese manufacturers mainly develop within the group, and most European and American manufacturers focus on startups and academic institutions. Yet, the development of Chinese manufacturers is slower, and most of them are in the research and evaluation stage.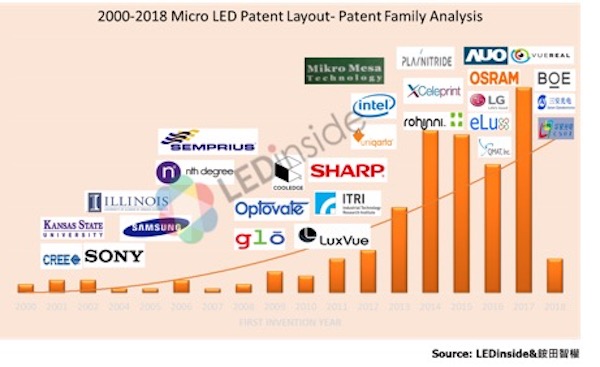 Micro LED development history
In terms of Micro LED patent development, 2000-2013 is the "germination period", and only a few pioneers carried out patent layout due to weak market demand. Sony, Cree and the University of Illinois have been the earliest ones for the layout. After 2014, there is "growing period", mainly owing to Apple's acquisition of LuxVue and the demonstrated confidence in Micro LED display technology, which in turn led to accelerated investment by other operators such as Uniqarta, PlayNitride, Rohinni, Mikro Mesa, QMAT and VUEREAL. In the last two years, there have been patent layouts of panel manufacturers such as AUO, BOE and CSOT. Among many Micro LED patents, the top three patented technologies are mass transfer technology, display module technology and chip manufacturing process technology, with a total of 80% of all patents.
Micro LED supply chain and vendor layout analysis
In recent years, more international manufacturers have joined the development of Micro LED via M&As and establishment of new business units or startups. These companies have developed vertically or horizontally with their own established areas of expertise, including LED epitaxy production, mass transfer technology, panel technology and branding. In terms of LED epitaxy, LED epitaxy manufacturers are the most suitable ones, and for mass transfer, it is the threshold and more manufacturers have invested in this field. Manufacturers in Taiwan, China, South Korea, Japan, Europe and America also have different levels of Micro LED layout.
Taiwanese manufacturers such as AUO, Epistar and PlayNitride focus on professional OEMs and have close collaborations with international manufacturers. Only Foxconn is the most proactive Taiwanese developer and has the most thorough development plan.
Chinese manufacturers fall a bit behind in terms of Micro LED development mainly because they are more interested in technologies that can be mass-produced in a short time. Therefore, most of them are still assessing (some of them have already started early-stage developments) the profitability of Micro LED products.
Korean manufacturers are at the forefront of the development of display technology. Yet, because their major resources have been invested in OLED products, they choose to develop strategic partnerships with Micro LED developers to complement their limited resources for Micro LED development.
In Japan, Sony is the first company to start Micro LED development. However, as companies in Japan tend to be defensive, instead of business collaboration, they do sample validation and tests on their own. It is worth noting that Japanese and Korean manufacturers mostly focus on the development of large-sized Micro LED display technology because they have already dominated the field of large-sized television.
Most European and American manufacturers focus on startups and academic institutions. In recent years, through reinvestment and acquisition, patent layout has been achieved in the field of mass transfer. In terms of panel, due to its high investment amount, they collaborate with Asian panel manufacturers. In addition, European and American manufacturers mainly focus on small- and medium-sized Micro LED display applications such as mobile phones, projection and wearable devices.

In January 2019, LEDinside has analyzed the key technologies of 2019 Micro LED next generation display. For more information, please call or email us. Thank you!