LED Engin is claiming high quality light with a CRI of 97 from its 'gallery white' LEDs.
CRI is not a perfect measure of colour rendering,Inbright uv led.
It is officially measured using eight pastel shades (called R1-R8) and it is not unknown for lighting LEDs and fluorescent lamps to have their spectrum tuned to deliver a high CRI number at the expense of visual fidelity with certain common colours.
Not so with LED Engin's latest range.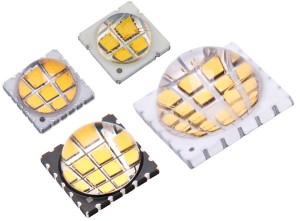 "Accurate colour rendering is a critical factor in achieving the desired ambience in high-performance applications. While the CRI measures the light source against eight pastel pigment colours, it does not take into account saturated solids [R9-R12] or skin tones [R13 and R15]," said LED Engin. "Not only does Gallery White achieve a CRI of 97, the emitter also delivers R1 to R15 values between 96 and 99 and R12 typically of 86."
Applications are expected in demanding shops, galleries, and showrooms.
Colour temperature is 3,000K. "Colour temperature and CRI remain stable over time, temperature and drive current," claimed the firm.
There is an option to specify a 3 SDCM (standard deviation of colour matching) bin.
Output from the range is 450-3,200 lm from 10-80W input, depending on how many die are in the package.
A suite of matched TIR (total internal reflection) lenses is available to create beams from nine to 50°.
The emitters are on show at the LED Engin stand at the Guangzhou International Lighting Exhibition next week.