With a wide range of applications, UV LED is considered a new rising opportunity for the LED industry. LEDinside noted in the latest report, titled "2019 Deep UV LED Application Market- Sterilization, Purification, and Water Treatment Markets," that UV LED market continues to increase with the curing market steadily grow and rising applications in sterilization for surface, air, static and flowing water. With these driving momentums, LEDinside forecasts that the UV LED market value will reach US$ 991 million in 2023.

Based on the wavelength of light emitted, UV LED can categorize into three types, UVA, UVB and UVC LED. UVA LED emits light with wavelengths between 320-400 nm, UVB with wavelengths 280-320 nm and UVC 200-280 nm.

UVA LED has been widely used in light curing applications for display instrumentation, coating, printing and others. UVB, on the other hand, is applied in medical field for skin treatment as studies have found though the UV wavelength of 310 nm can enhance skin growth and improve metabolism. UVC LED, with its high energy, is often used in destroying micro-organisms like bacteria, viruses and more, as an efficient solution in disinfection.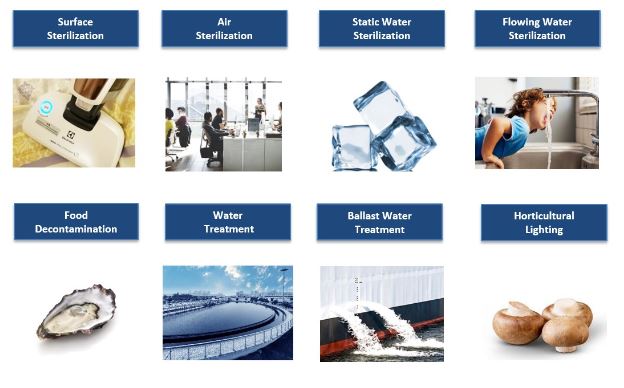 Following the treaty of the Minamata Convention on Mercury, manufacture and trade of mercury lamps will be banned from 2021. UV LED is safe and sustainable in comparison with mercury UV lamp and thus can be used in a wider range of applications, opening up a greater market opportunity.

Joanne Wu, Research Manager of LEDinside indicated that Japanese and Korean companies are active player in the UV LED market. The revenue rankings of UV LED top five producers in 2018 are Nitride Semiconductors, Seoul Visoys, LG Innotek, Nichia and Epitop.